Trade fair for experiential marketing: exciting insights from the BOE 2020
Many fresh ideas should enrich our trade fair year 2020. So, what could be more obvious than turning your back on the office for a moment between individual projects and gathering interesting insights from current trade fairs? In this way, we prisma planners continue to sharpen our view for the future of the trade fair landscape. What do trade visitors expect from a trade fair?
What needs must be satisfied; what demands must be met? The answer to these questions feed directly into the design of the exhibition stands for our customers. Cindy Meier is a prospective event manager and trainee at prisma plan. She immersed herself for a day in the wide world of experience marketing - at the international trade fair BOE in Dortmund. Here´s her report.
Acrobatics sweeten the queue at the entrance to the fairThe first experience the BOE has in store for me is waiting. The queue of visitors at the Noth Entrance runs through the entire entrance area of the Dortmund Trade Fair Centre and does not augur well for the time being. But very quickly the involuntary time out turns out to be not so tragic at all. Already in the foyer, an artist entertains the waiting visitors and banishes any hint of boredom with her performances. The woman wears a wide dress and is attached to a device about five meters high, which reminds me of the pole-vaulting pole. Despite the shaky affair, she moves delicately and gracefully to all sides - like a flag in the wind.
Meeting with supplies of our stand construction companyI think to myself: If a trade fair for experiential marketing offers such a highlight right at the entrance, the day can only be great. My first way leads me to hall 4, where the focus is on "Safety & Security". In addition to manufactures of technical equipment, other companies that offer, for example, flooring or rental furniture, will also be exhibiting here. Since some of prisma plan´s suppliers and business partners have also set up their trade fair stands in this hall. I visit them first. I am particulary impressed by the booth of a company that offers LED screens for rent. The products are simply perfectly staged. The stand area and rear wall consist of high-resolution LED screens on which a slide show is running. Pretty impressive.
Silent Conferences as a new trend at trade fairsSo, moving in ti the next hall number 7. Digitization and mechanization determine the range of services on offer here. I am very interested in the possibilities of digital lead capture at trade fairs. Many customers of our stand construction company already use such tools very successfully. At another stand, I came across digital wristbands whose LEDs react to sound, so that, for example, at a music concert they light up rhythmically to the beat and thus integrate the audience into the action. I am also convinced by the headphones at the next stand, which were developed for so-called "Silent Conferences". They are intended to enable to participants of a lecture to understand the speaker optimally even under unfavourable acoustic conditions. A first practical test is positive. When I attend a lecture , I don´t notice anything of the hustle and bustle of the trade fair around me.
Inspiration for events at exhibiton standsAfterwards, I will take a lot of inspiration with me from Hall 8. "Acts on Stage" is the topic here. And as the name suggests, a wide variety of artists present themselves to the visitors of the fair. From soothsayers to pantomimes to a compressed air orchestra, everything is represented. Some of the artists are interesting for us prisma planners - we can recommend them to our customers as acts for their events at the trade fair stand.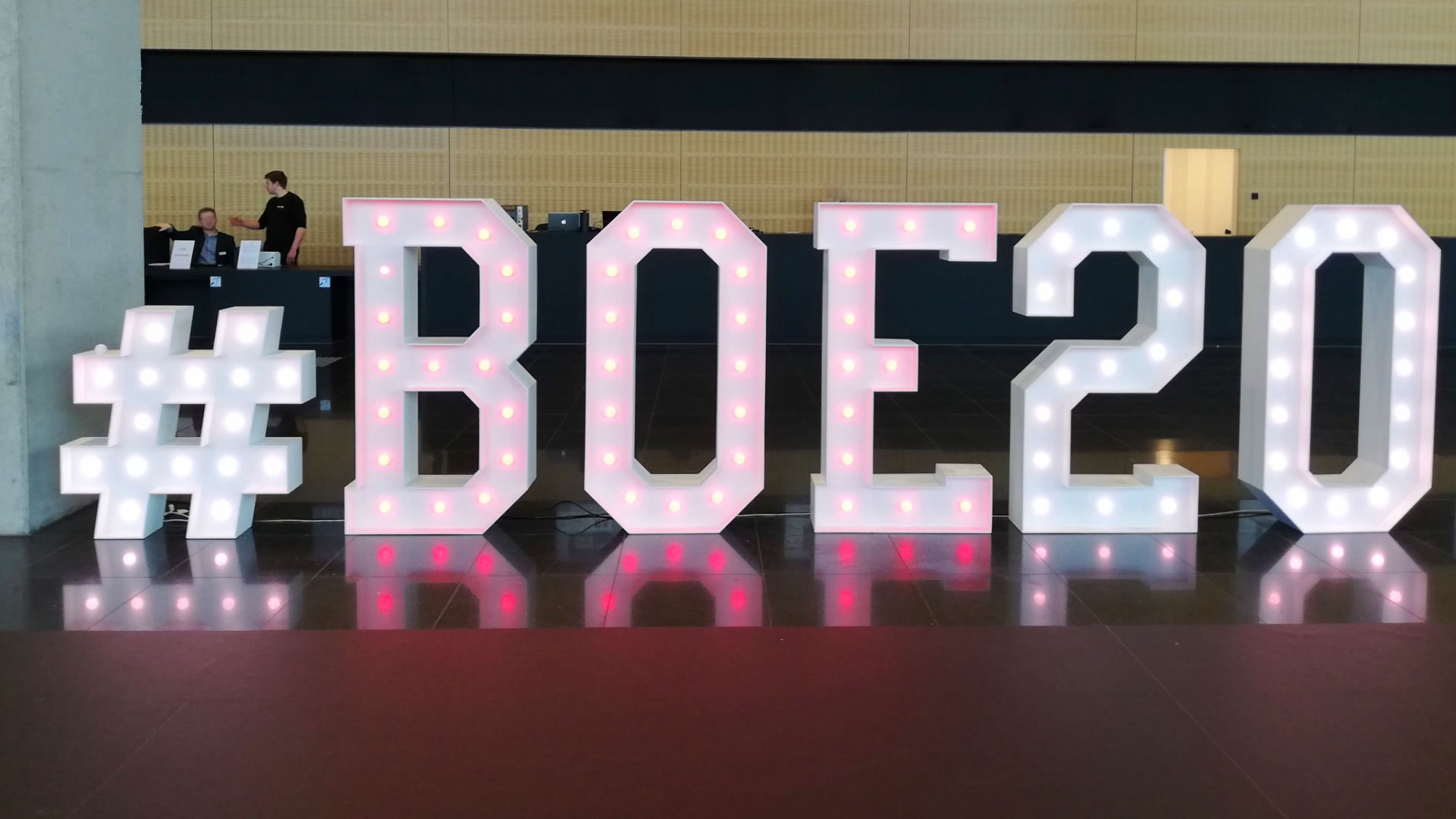 In the MICE sector it is: Trends to the futureIn the meantime, it has become noon. And I´m starting to get a feeling in my stomach. So, I´ll be moving into Hall 6, because this is where the companies from the catering sector will be presenting themselves. I can´t let this opportunity pass me by. I decide on a gazpacho and a sweet potato mousse with horseradish topping. Very tasty! After dinner I explore the MICE area in the back of the hall. The focus of meetings, incentives, conventions and exhibitions is on "Trends to the future" - based on the film trilogy "Back to the Future". The clou is a genuine DeLorean, which has been converted into a time machine and can be admired. For me as a big "Back to future" fan this is another highlight.
Unlimited possibilities thanks to AR, VR and holodecksWell strengthened, I´m moving to Hall 5 - to the area that the trade fair for experiental marketing has dedicated to "Technology & Scenography". So, here everything revolves around the staging of events. And this with the help of all kinds of technical innovations. AR, VR and holodecks have me completely under their spell. I am thrilled by the incredible visual effects. Of course, I took the opportunity to test some things myself. At the VR-Kicker I have an exciting duel with other trade fair visitors. Unfortunately, my team goes off the pitch as losers with 2:4. But this does not detract from the unique experience.
My conclusionAround 5 pm, an eventful day at the BOE 2020 comes to an end for me. On the one hand I am exhausted, but on the other hand I am still full of energy and zest for action. It´s unbelievable how based the event industry is and the sheer endlees possibilities it offers. I take a lot of inspiration with me for my work here at prisma plan. And one thing is clear: The next BOE will not take place without me.
We are looking forward to youIf you would like to contact us, please visit us on Facebook or Instagram. Or give us a call. We are looking forward to you. prisma plan: Ideas from Herne, created for exciting custormers in North Rhine-Westphalia, Germany and Europe.