Rocket Beans are streaming live from Gamescom 2018. We´re building the studio for it.
Gamescom´s 10th birthday in 2018 will be attended by around 370,000 visitors, 15,000 more than last year. This is the previous record. The computer and video games fair is and remains a crowd-puller. Among the local stars are also the "beans" of the streaming channel "Rocket Beans TV". The entertainers and publishers are already represented at Gamescom for the second time and will once again opt for a stand concept made by prisma plan.
The 150 square metre booth, with it´s pop art inspired walls, is a real highlight. The focus is clearly on the spacious, open studio from where the live broadcasts are covered. There is a special proximity to the audience, which gets close to it´s stars and at the same time get´s unique insights into a TV production. Kilometres of cables are laid for this stage. 15 monitors ensure a special trade fair experience. Rocket Beans TV broadcasts live around the clock - of all the highlights Gamescom 2018 has to offer. Showcases, hands-on sessions, developer interviews and more will be shown. The first broadcasts already start during the setup. To ensure, that the machinery also runs in the background, two control rooms as well as a meeting room are installed in the rear stand area.
This year´s Gamescom is not only a highlight for us booth constructors. It also serves as a meeting place for politics. On the occasion of the anniversary of the trade fair, the guests of political honor, Dorothee Bär, Minister of State for Digitization in the Federal Government, Jose´ Guirao, Minister for Culture and Sport of the Gamescom partner country spain, Armin Laschet, Minister President of the State of North Rhine-Westphalia, and the Lord Mayor of the City of Cologne, Henriette Reker, among others, announced their arrival. Of course, we will also be present on site and support our customer if required!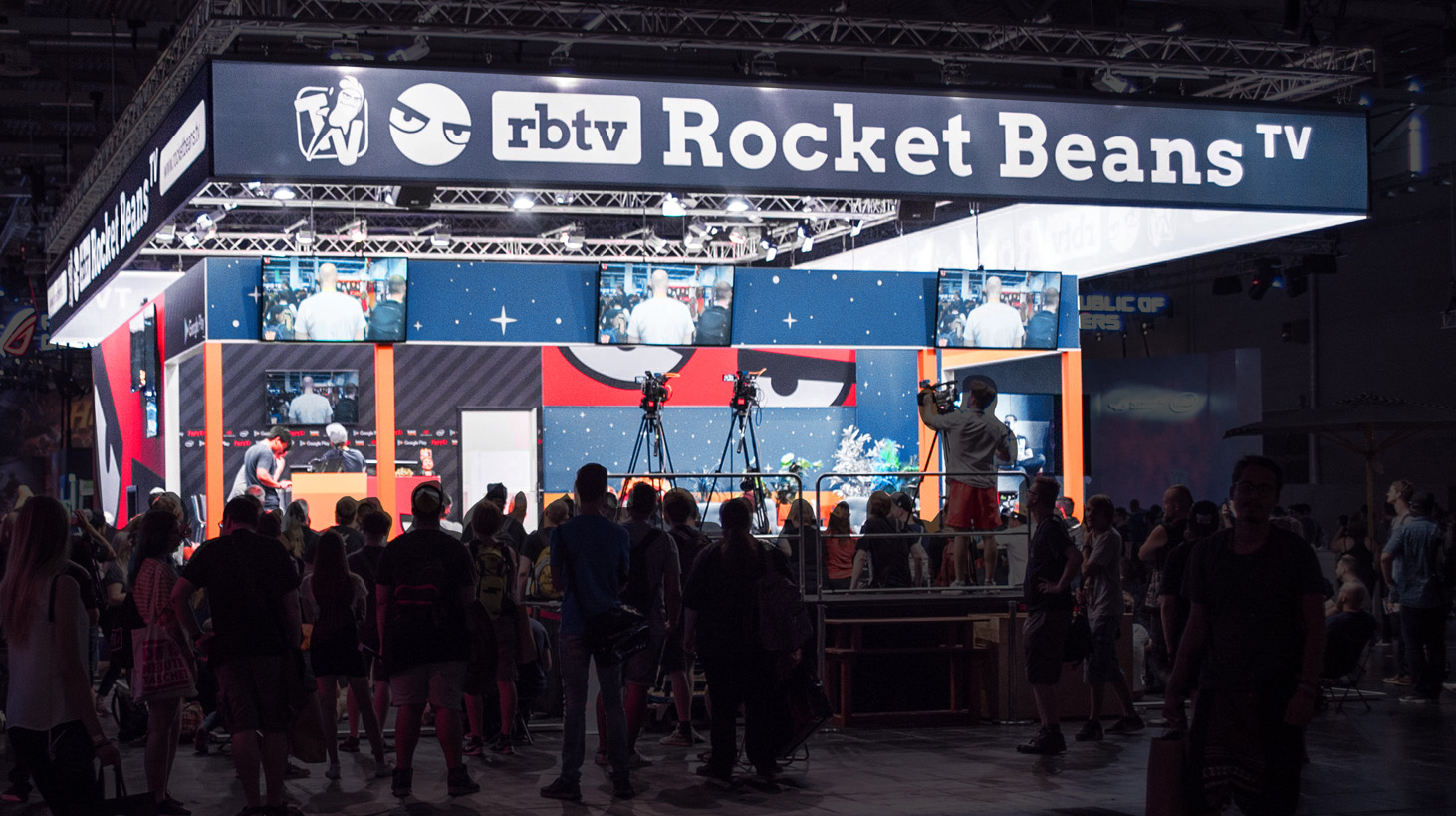 150 sq m
Pure Entertainment
370,000
Gamescom Visitors