PEEK BEHIND THE CURTAIN - KEEP UP WITH OUR LATEST NEWS!
Two new managing directors enrich our team
Good booth construction is always the result of a successful team performance. We are pleased that we will enlarge the team of our management still in the year 2019. Together with Jörg Beister-.Kumpmann and Georgios Roussos, we are setting the course for a successful future for prisma plan.
Many years of experience in trade fair constructionThe two future co-managing directors have a lot in common. Both of them were born in 1971 and both worked for prisma plan at the beginning of their architectural studies - and both have their heart set on exhibition construction. "Every day, I go to work with great pleasure", says Jörg Beister-Kumpmann. And Georgios Roussos adds: "The responsibility that we now receive is an honor and a vote of confidence for us. We want to replay this trust with our commitment and dedication".
Roussos: "As a good architect in exhibition you are married to your client."Currently, Beister-Kumpmann and Roussos are responsible for the operational business of prisma plan - including scheduling, warehousing, CAD and overall project planning. Meanwhile they have a downright friendly relationship with many business partners. Roussos even says: "As a architect in exhibition builder you are, so to speak, married to your client." Beister-Kumpmann is convinced that one of the reasons for the success of prisma plan is to look for it." We are approachable, always approachable, open and transparent.
Beister-Kumpmann: "As a stand builder we are always approachable and open."If the two experienced and successful members of the prisma plan team look back on the past few years, several projects come to mind that have made lasting marks on their memory. " demanding constructions, large spans and "flying exhibits", one thinks twice how to realize the construction," says Roussos, laughing. And his future co-managing director still likes to remember a 35-ton component that, of course, could only be moved with heavy equipment. Of course everything has worked well in all cases.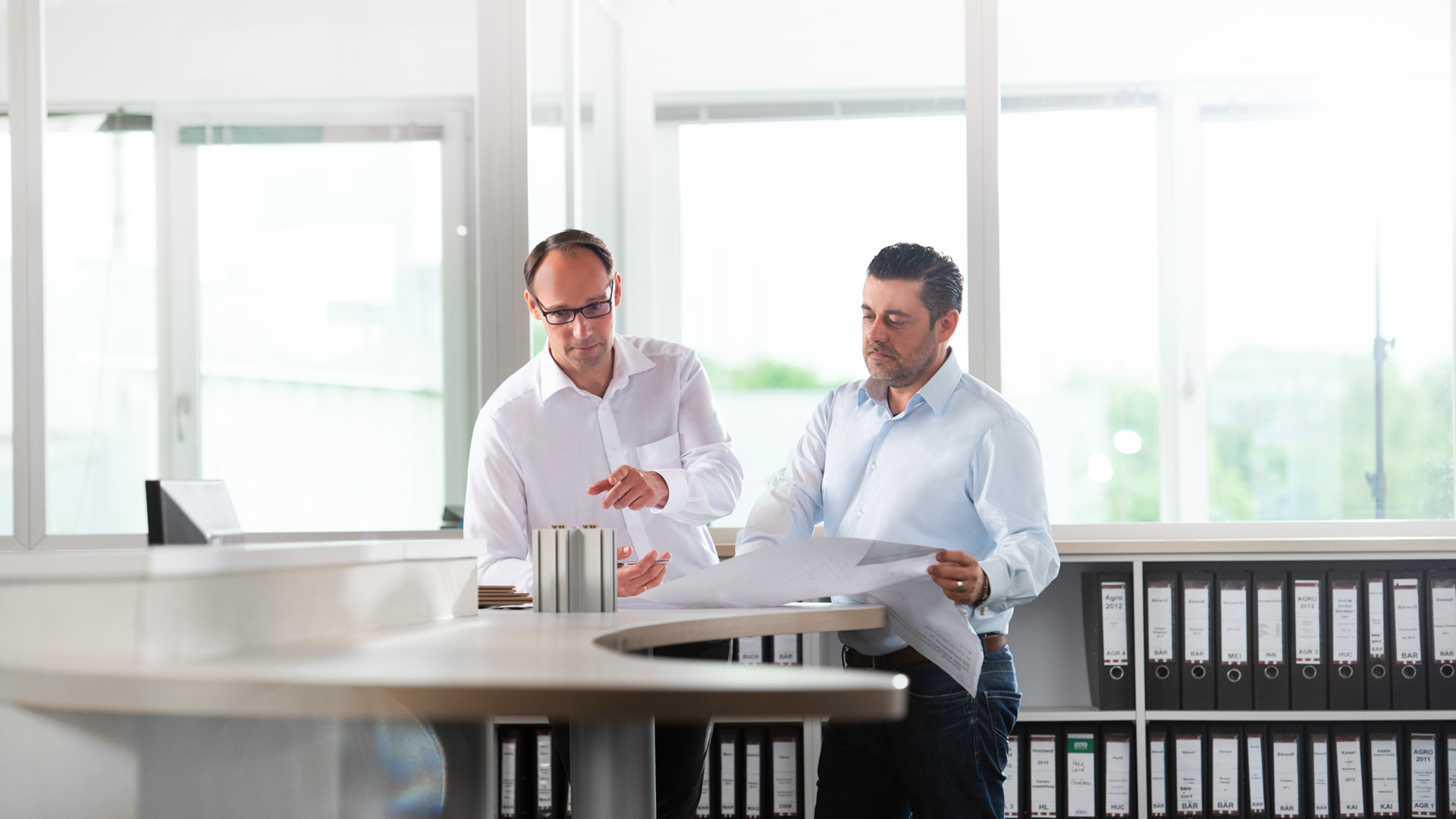 Trade fairs remain indispensableFor the future of trade fair construction, both expect an increasing focus on digitization. "The mere product presentation moves more and more into the background," they say. For Jörg Beister-Kumpmann and Georgios Roussos fairs are still indispensable as places for cultivating contacts, personal discussions and the exchange of information.
Many paths lead to your stand construction companyDo you want to get in contact with us? Our booth construction team is always there for you. On the phone, by mail and in the world of social media. On Facebook and Instagram, you can find out more about our stand construction company - regular updates that show you our everyday life. Ideas from Herne, created for exhiting custormers in North Rhine-Westphalia, Germany and Europe.