PEEK BEHIND THE CURTAIN - KEEP UP WITH OUR LATEST NEWS!
Successful exhibition thanks to "speadlead"
Maintaining contacts, establishing networks, convincing new customers: Every trade fair is a major and important exchange of views. Bringing visitors to the stand and to make them remain there is one of the main tasks when planning and preparing the event.
Individual, personal and reliableFrom our experience in trade fair cinstruction, we know that a contact only becomes a qualitative lead if the support is individual, personal and reliable.
- Individual: every custormer is different. Everyone needs information materials, but certainly not all the same.
- Personal: The exhibition goals can only be achieved by direct contact, in a trusting conversation. That goes far beyond the visit of the exhibition stand.
- Reliable: Promised information must be sent quickly and punctually. The same applies to thank-you mails.
App was used at the IFFA fairTogether with our partner "V. Mane & Fils SA", we took a step forward in lead generation and management. At our booth at IFFA, the leading international trade fair for the meat industry in Frankfurt, we have integrated the "speedlead" system for the Swiss customer. An App that captures, processes and reworks leads. An App that can do even more.
All contacts at the exhibition stand always in viewWith "speedlead" no contact is lost at the exhibition stand. The programme enables team chat and voice notes and maintains a schedule. The user can capture his thoughts within seconds in drawing and sketches- simply with the pen or the finger on the screen of the tablet or smartphone. Beforehand the fair, questionnaires for the upcoming contacts can be created and saved, Business cards are scanned, thank-you mails are sent automatically.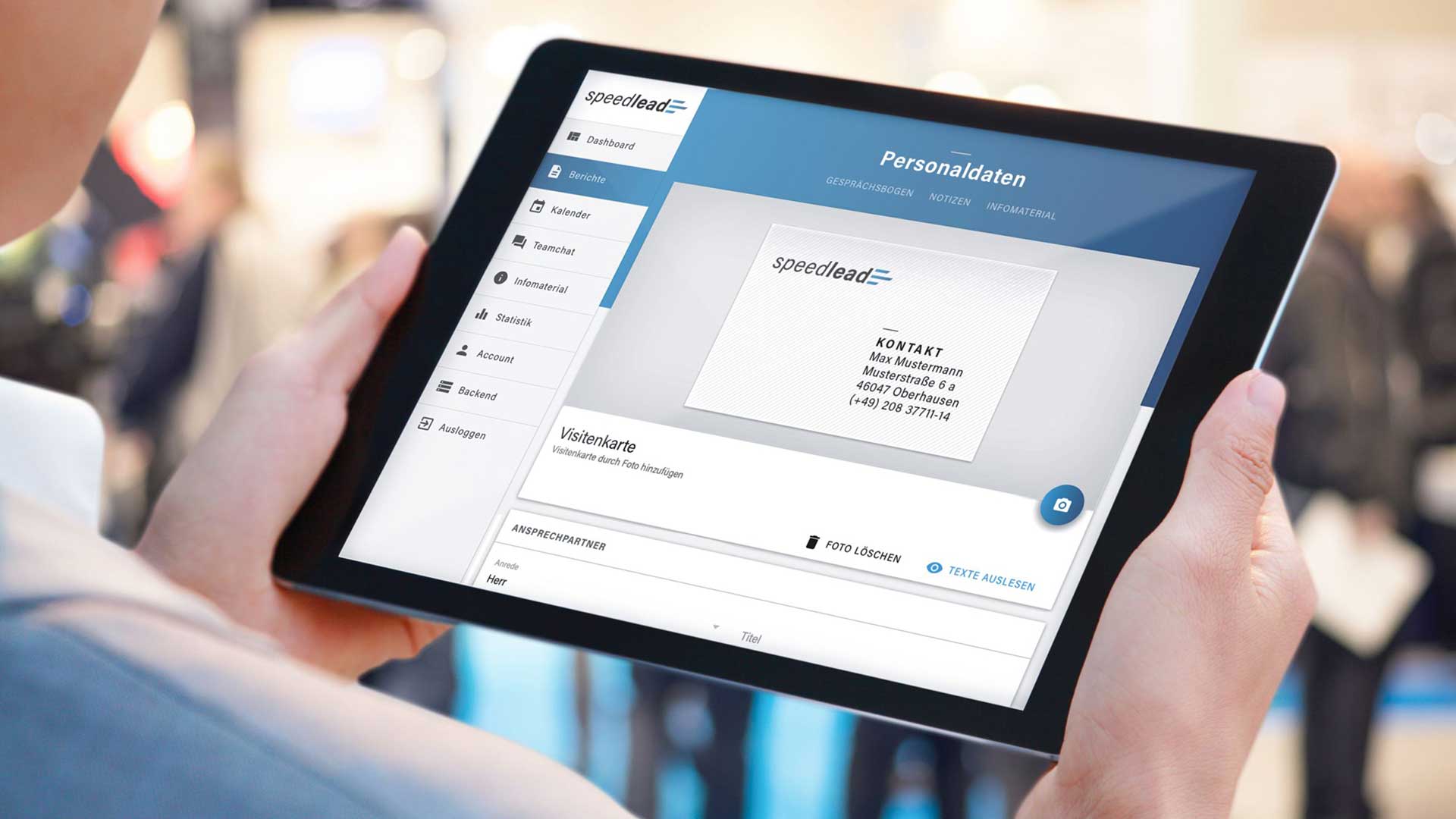 App is GDPR compliantAnd this is becoming increasingly important: "speedlead" is 100% GDPR compliant. The customer immediately agrees to the usage and storage of his data- and decides for himself which information may be shared. The hosting also takes place on German servers. The interface of the app is also provided in the customer´s corporate design.
We are looking forward to youDo you want to get in contact with us? Our booth construction team is always there for you. On the phone, by mail and in the world of social media. On Facebook and Instagram, you can find out more about our stand construction company - regular updates that show you our everyday life. Ideas from Herne, created for exciting customers in North Rhine-Westphalia, Germany and Europe