PEEK BEHIND THE CURTAIN - KEEP UP WITH OUR LATEST NEWS!
Truck Grand Prix: exhibition, movers and shakers and engines
Let´s get loud: In July, one of the most rapid assignments of the year is on the calender for our stand construction team. At the 34th International Truck Grand Prix at the Nürburgring, the world´s commercial vehicle industry elite will meet with their business partners, friends and fans. And our customer Europart Holding GmbH from Hagen is of course also on the grid.
Reliable, flexible and dynamicJust recently, Europart was honored as "Best Truck/Bus Parts Dealer 2019" by readers of the trade journals "lastautos omnibus", "trans aktuell" and "Fernfahrer". For the seventh time already, the trophy went to Hagen. We say: An absolutely deserved success. Because we know exactly that Europart represents the same values that we pursue in our daily work. Reliability, flexibility and dynamics.
Exhibition as a hub for get-togethersThe exhibition at the Nürburgring is regarded as one of the largest get-togethers in the commercial vehicle industry worldwide. In 2018, Europart welcomed around 2,000 visitors to its stand and was able to convince them of its range of products and services. If you want to offer your guest outstanding service, you need to be sure that the machinery in the background is running like clockwork. This was not the only reason why the company decided to entrust us with all the tasks associated with its trade fair presence.
1,000 litres of beer as an award for the showtruckFor the event, which roars, crashes, rumbles and blasts from 19 to 21 July 2019, we are realising the customer´s appearance in the 450 square metre tent located at the "green hell" in the Eifel, with everything that is part of an informative and modern trade fair stand. And then there´s a show truck that the DMAX asphalt cowboy Daniel Schewe and the "passionate gearhead" Nico Fischer want to create on time from a completly dilapidated semi-trailer. After all., 1,000 litres of beer will be awarded.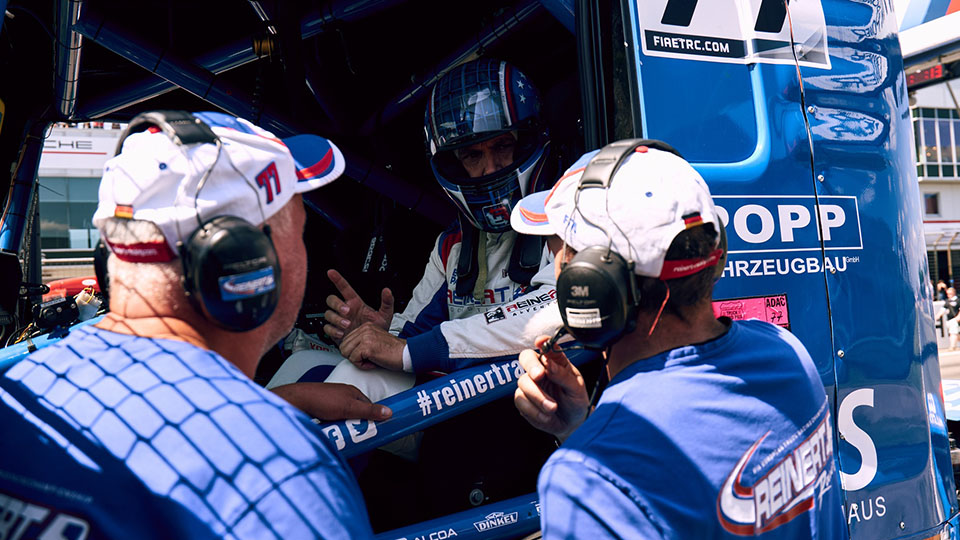 Pure adrenalin at the Truck-EMOur passion and lifeblood goes out to booth construction and design. But thanks to Europart the motorsport fever has already caught us. The fourth of eight races of the FIA European Truck Racing Championship will take place at the Nürburgring. Our customer Europart supports the Reinert Racing Team with its driver René Reinert. The legendary number 77 currently ranks sixth in the drivers´standings.
How to reach your trade fair construction expertThere are many ways to personally contact our trade fair construction team: On the telephone, by e-mail and in the social media world we are always there for you. On Facebook and Instagram you can find out more about our company - regular updates that show you our world of work. Ideas from Herne, created for exciting customers in North Rhine-Westphalia, Germany and Europe.