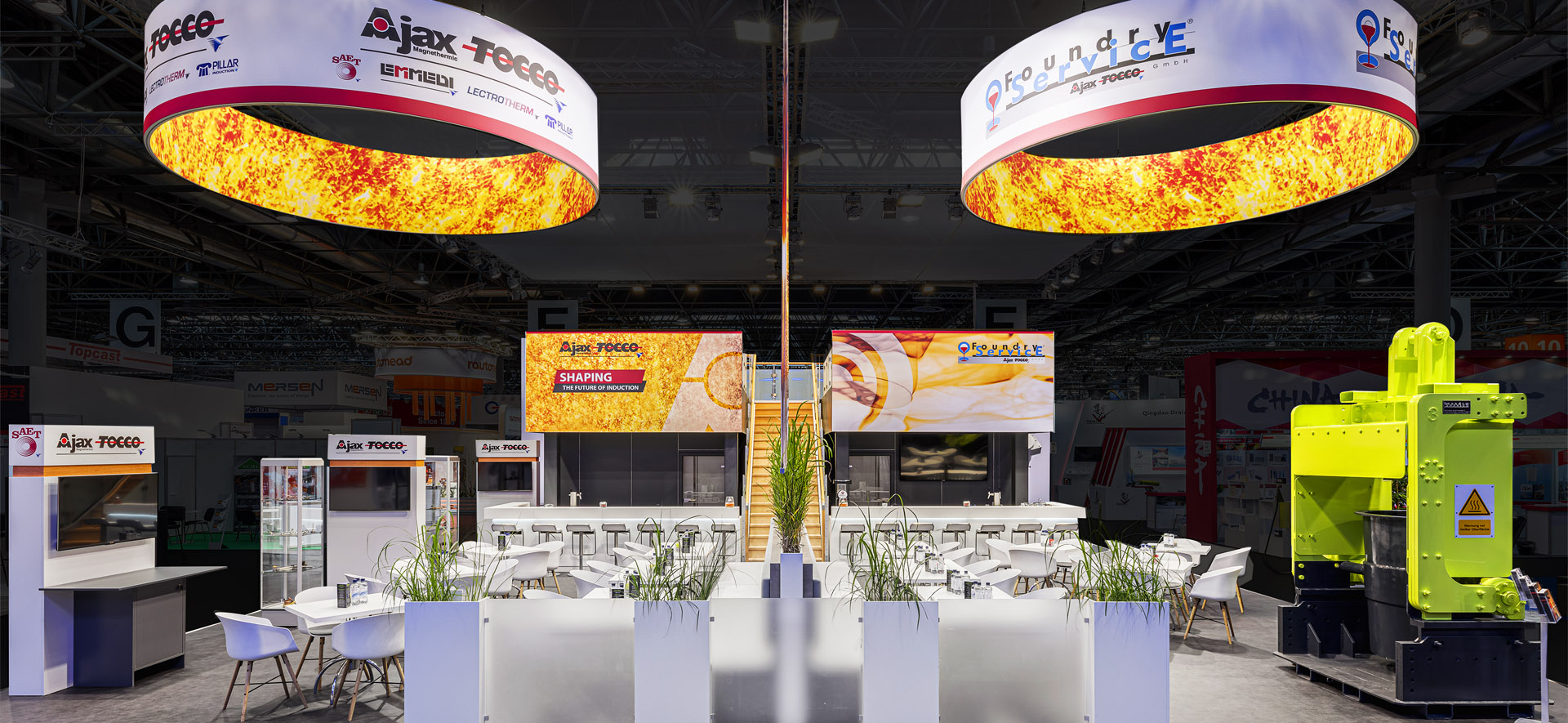 GIFA and Thermprocess visitors are heated by the booth of the Ajax Tocco Group.
The Ajax Tocco Group specializies in heating, melting and hot air circulation, as well as the construction of transport systems for molten masses At the same time, the company cooperation covers the contrary topic of industrial cooling. Our customer rightly has a leading market position in Europe. Through its involvement in the fields of smart technology and Green Economy, the group is impressively demonstrating how modern, proactive indurstry looks in practice.
We stick an additional to this burning passion and create a trade fair concept for GIFA and Thermprocess that is aflaming. Fire, the key issues of the joint stand, will be taken up many times in the thematically matching graphics. Especially the significant rotundas serve as eye-catchers. Their exteriors show the logos of Ajax Tocco Magenthermic GmbH and Foundry GmbH. The effectively integration of communication areas in the centre of stand area creates a visual boundary between the exhibitors and the two parallel running trade fairs GIFA and Thermprocess. The other partners, Pillar Induction, Lecrotherm and Saet Emmedi Induction Heating Solutions are optimally staged by graphics and information points.
The honeycomb structure on the back of the stand emphasises the close cooperation between the companies. In the spacious lounge on the first floor, visitors are welcomed and encouraged to exchanged ideas with the trained stand personnel.
Retrospectiverly, the Ajax Tocco Group imprerssively manages to let the sparks fly to the visitors of the GIFA and Thermporcess and thereby gernerate numerous new leads. We congratulate to the success and look forward to the future cooperation!