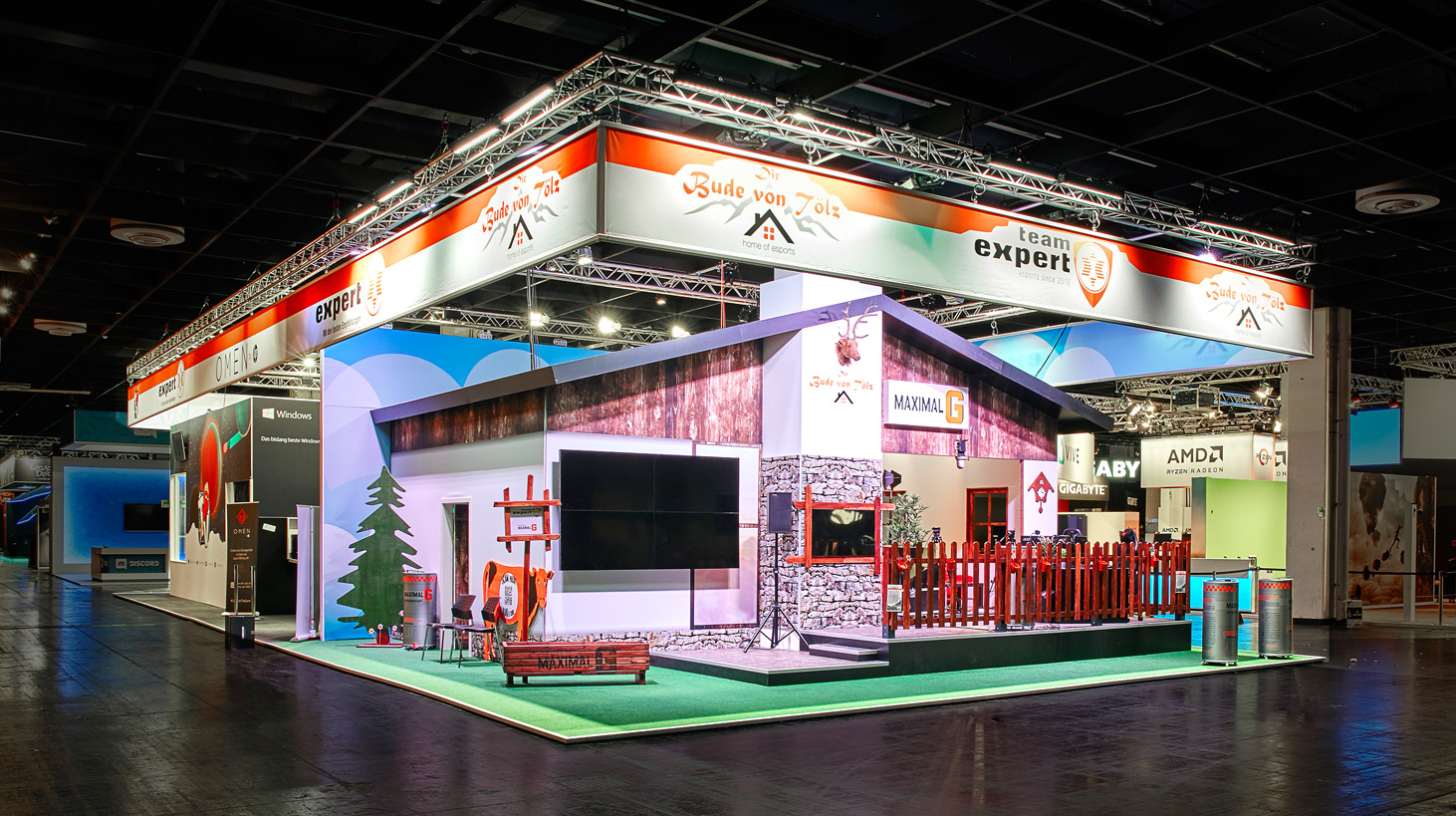 The trade fair exhibition stand was used to display the latest gaming hardware, to present the top news and to give a live broadcast.
Expert AG, based in Hannover Langenhagen, is a high-performance group of companies, currently comprising 210 expert shareholders and members with a total of 443 locations throughout Germany.
The trade cooperation for consumer electronics, information technology, telecommunications, entertainment and electrical appliances was founded in 1962.
The "team expert´s" professional gamer obtained their headquaters for their first birthday: At this year´s Gamescom, the expert exhibit officially presented the "Bude von Tölz". They were again accompained on the floor by their expert cooperative partner, Rocket Beans TV. In addition, they presented HP, as well as the drinks partner for the "Bude von Tölz", "Maximal G".
Live shows were produced in the "Bude von Tölz" and streamed live using the online TV channel "Twich", as well as via Facebook. The gaming fans were thus able to experience the daily routine of the booth and were able to watch the eSports athletes during competitions and training. The "booth" sent a live transmission from the exhibition stand every day.
The exhibit was divided into three parts, which merged into a single unit under the expert banner "Bude von Tölz" which, with its classics Bavarian country-house style, was used by many visitors who just wanted to pass by the exhibition stand.
The studio itself is, typically Rocket Beans, designed with colourful fantasy world graphics. OMEN by HP was presented in the middle of the trade fair stand. This powerful gaming calculator could be tested in many places,